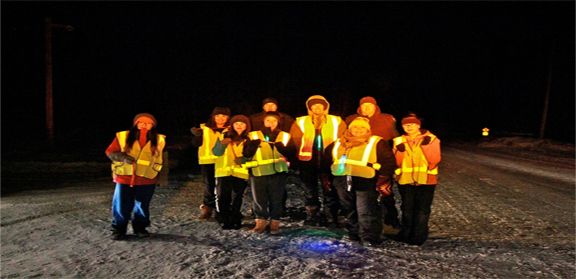 Registered chapters receive the following support:

Free Participation in Red Ribbon Campaign / Comprehensive Chapter Manual / Posters and Other Promotional Materials / Eligibility for SADD Scholarship / Eligibility for Annual Awards / Charitable Tax Receipts For Your Local Supporters / Eligibility For Free Speakers / Eligibility for Provincial Conference / Voting Privileges and Opportunity to Hold Office on Provincial Board / Eligibility For Contests / Free Access To Vision Goggles And Video Library / Continued Provincial Board and Office Support
Videos Available To Borrow
SADD Saskatchewan has an updated video library for you to view! New additions include: "Reflection" / The Truth About Drinking / Drinking Driving and Dying / Not Ready to Go (DVD) THE ALCOHOL YOU / GETTING SERIOUS / AVONLEA GRAD
JUST ANOTHER SATURDAY NIGHT.
The Truth About Drinking is an Emmy Award winning video hosted by Leeza Gibbons. It also includes appearances by Tyra Banks, Kevin Sorbo, and Evander Holyfield.
A complete list of available videos (with some description) and an order form is included in your Chapter Manual. Please note that due to the high demand for videos/DVD's advance previewing is not allowed.
Note: The DVD Ted's Story: Honouring Melissa may be ordered by schools by contacting The Media Group at 888-682 8808 or by e-mail at vidlib@mg.sk.ca. This is the story of the collision that killed Melissa Hoeving and the aftermath that the families are trying to overcome. Schools are asked to add this DVD to their school libraries.
Red Ribbons
A red ribbon tied to a vehicle antennae or rear view mirror symbolizes opposition to drinking and driving. The ribbons serve as a visible reminder to make responsible choices and that fatalities and injuries caused by impaired driving are always preventable.

Our "Red Ribbon" Campaign is generously sponsored by the SaskTel Pioneers. See the Chapter Manual for ideas.
Vision Goggles
SADD Saskatchewan has impaired vision goggles available for borrowing. The goggles simulate the effects of impairment at different BAC levels.

These can be a fun way to educate the participants about the effects of impairment. Participants should be reminded that the goggles affect vision only and that alcohol and drugs will also affect judgment and reaction time.

If you are interested in borrowing the vision goggles, please contact the office ahead of time. In doing this, you will have a better chance of receiving the goggles for the time slot you want.
RCMP/City Police/Legislation Links
Members of your local RCMP Detachment or City Police can be a valuable resource.

Many SADD Chapters have worked successfully with their local police on presentations, demonstrations, mock collisions and check stops.

Some police officers assist the local SADD Chapter by serving as a co-advisor.
Please Note
Students Against Drinking and Driving is a legally registered name in Saskatchewan and can not be used without permission. Registering a SADD Chapter is a very easy process and only costs $25.00/year and offers many benefits.
Need more info?
If you are looking for more information about our programs, please use the menu to the left or email the provincial office at sadd@sasktel.net