Learn The Facts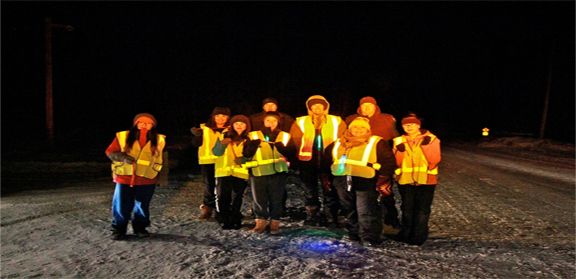 New statistics released show:
‣ Alcohol use continues to be a dominant contributing factor in casualty collisions in Saskatchewan, especially over the last 3 years.
‣ Though we had seen a long-term decreasing trend in the number of alcohol-related casualty collisions in the province, since 2006 there has been a reversal of this positive downward trend.
‣ In 2008, alcohol was a factor in 63 fatal collisions, which is a 46.5% increase from the previous 3-year average of 43 collisions.
‣ In addition, the number of injuries resulting from alcohol-related crashes was 987, a 21.8% increase from the previous 3-year average of 763.



There is no such thing as an accident involving alcohol.
SGI 2005 Preliminary Casulty Collision Report
While alcohol-related collisions decreased and seatbelt usage was up, the number of fatalities on Saskatchewan roads last year remains a concern.

According to preliminary statistics from SGI'S Traffic Accident Information System [TAIS] 147 people died as a result of traffic accidents in the province in 2005. This represents a 17 per cent increase from the 2004 figure of 126. Fatalities were also seven per cent higher that the previous three-year average of 137.

Alcohol was a factor in 42 fatal collisions in 2005. It represents a 16 per cent decrease from the previous three-year average of 50 collisions. Fewer people were also injured as a result of alcohol-related crashes. In 2005, 670 injuries were recorded, a 17% drop from the previous three-year average of 810.
Overall, we continue to see a long-term decreasing trend in the number of alcohol-related traffic accidents and associated casualties [injuries and deaths] in the province. However, alcohol-related accidents continue to be the leading contributor to traffic fatalities in the province.

"Drinking and driving is still a significant road safety problem in Saskatchewan," says Kwei Quaye, manager of SGI'S Traffic Safety Evaluation. "All deaths from driving after drinking are preventable, and we will continue to work with the public and law enforcement to raise awareness of this serious issue."

The complete TAIS ANNUAL REPORT is available on SGI'S website at www.sgi.sk.ca.
New Amendments Target Impaired Drivers
| | | |
| --- | --- | --- |
| | | SGI has introduced new amendments to The Traffic Safety Act effective July 1, 2006. The most significant amendment strengthens the suspension for impaired drivers by establishing an immediate 24-hour suspension for drivers who fail a standard field sobriety test due to alcohol or drug impairment. Drivers who refuse the test will also face immediate 24-hour suspension of their driver's licence. Another significant amendment to the Act is imposing a 15-day driver's licence suspension after a second .04 blood alcohol content [BAC] violation within a 5 year period. |
What is the annual estimated cost of road crashes in Canada?
The economic and social consequences of road crashes is estimated to be $25 billion a year. This figure includes not only the direct and indirect costs but the estimated costs of pain and suffering.

Source: Transport Canada - 2003 Canadian Motor Vehicle Traffic Collision Statistics
Please Note
Information is provided as a base for your chapter and should not necessarily be taken as official without consulting the most recent information or a medical practioner.
Need more info?
If you are looking for more information about our programs, please use the menu to the left or email the provincial office at sadd@sasktel.net